Bbg Academy Homework Record
Faer
/
School Improvement Conference
At The Rodillian Multi Academy Trust "We run our schools differently. Students want to attend them, Teachers want to work in them and other schools want to learn from them."
We invite you to The School Improvement Conference on Wednesday 1st November Nov 2017 or Wednesday 28th Feb 2018.
"The academy has high expectations in terms of both behaviour and learning." Ofsted Feb 2016
"Senior leaders have ensured that there is a consistent approach to behaviour management and have rapidly improved the quality of teaching. As a result, pupils are better behaved and are making good progress." Ofsted March 2016
"Strong leadership has led to better teaching, improved behaviour and attendance and higher attainment for pupils." Ofsted Feb 2017
About The Rodillian Multi Academy Trust
We are very effective in supporting schools across the country in what we consider very challenging but exciting times in education. We collaborate to transform students':
academic results;
life chances;
self-esteem;
horizons;
attendance;
behaviour.
We raise aspiration levels for staff, students and schools by encouraging creativity in the classroom and giving our staff freedom to experiment with their teaching for the benefit of their students.
We promote self-reflection, problem solving, risk taking and equip staff and students with the essential skills for life such as:
resilience;
perseverance;
facing competition;
coping with failure.
We strive to develop a growth mindset in each of our young people and our staff – a belief that intelligence is not fixed or inherited but can be improved, if we learn from our mistakes and continually work hard. We do this through our innovative:
Positive Discipline policy;
Innovative Curriculum design;
Resilience Curriculum;
Coaching Model;
Leadership programmes and support programme.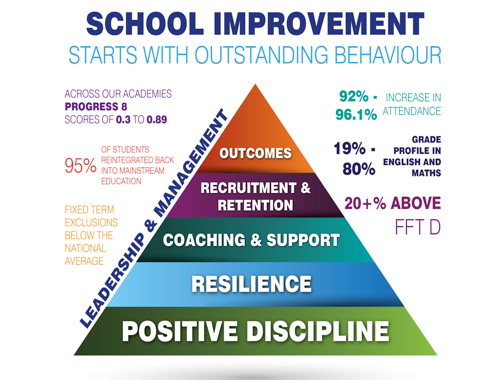 We strive to develop a growth mindset in each of our young people and our staff – a belief that intelligence is not fixed or inherited but can be improved, if we learn from our mistakes and continually work hard. We do this through our innovative:
positive discipline policy
resilience curriculum
coaching Model
leadership programmes and support tool
What is Positive Discipline?
The RMAT version of Positive Discipline has been developed and continually refined as a whole school behaviour management framework.
The frame work has been successful in:
fulfilling the guidance given in the DfE Behaviour and Discipline in schools 2016 documentation;
transforming the behaviour, atmosphere and culture in underperforming schools;
maintaining high expectations and an outstanding judgement for behaviour;
supporting staff in the classroom. Ensuring that teachers can focus on teaching children who want to learn and who behave in satisfactory manner;
developing a culture where by teachers do have to suffer constant disruption during their professional practice;
reducing staff work load both through increased efficiency and effective use of the student planner as a central record of each student's progress;
ensuring that all students, regardless of ability, age and gender are involved, whenever possible in the process of praise, recognition and rewards.
What is the Resilience Curriculum?
At the centre of our ethos is a commitment to the development of character, resilience and a growth mind-set. We believe that this has been an intrinsic part of the transformation of Rodillian Academy and the schools within The Rodillian Multi Academy Trust, both in terms of examination results and the confidence and mind-set of our young people.
The areas of resilience we promote in our students are: academic, physical, emotional, cultural and spiritual, endurance, behaviour and cognitive.
The curriculum provides our students with opportunities and skills that they may not have access to in their day to day lives and also presents them with opportunities that raise their aspirations for the future and what they can achieve.
Coaching
Our performance management / coaching model has developed with the specific aim of making the performance management cycle address staff development rather than staff accountability, where staff are held to account depending on their results. Lesson study is now an intrinsic part of department development time, in which colleagues jointly plan for and then peer observe student progress in lessons.
Over the last 3 years 96.6 % of our staff have reported that they felt their classroom practice was improving as a result of the coaching model. The model is based on research of Dylan Wiliam, aims to formatively assess colleagues and then work on one agreed area for development throughout the year.
The highly-structured programme places a strong emphasis on teacher autonomy and colleagues taking ownership of their own professional development by providing evidence of their progress through peer lesson observation, team teaching, joint planning, and pedagogical research, amongst other strategies.
"We run our schools differently. Students want to attend them, Teachers want to work in them and other schools want to learn from them."
Our Schools
Rodillian Academy
In 2008 Andy Goulty was appointed as the Headteacher of The Rodillian Academy. He has taken the Academy from 19% A*-C English and Maths profile to 80% in 2017.In 2017 the Academy achieved a P8 figure 0.89.
Rodillian Academy now regularly achieves 20+% above FFT D and has established itself in the top 5%for similar schools nationally. During this time, Andy and his team were heavily involved in research to develop strategies that would support the journey of the academy. Through trial and error, they have developed:
Positive Discipline (new format);
The Resilience Curriculum;
The Coaching Model of Performance Management;
Leadership Programmes.
Andy is a National Leader of Education (NLE) and now the Executive Headteacher of the Rodillian Multi Academy Trust (RMAT). His knowledge of school improvement has successfully been used to lead and support the outcomes across the RMAT and through collaboration schools nationally.
Featherstone Academy
The Featherstone Academy was the first school to join the RMAT in September 2014. The academy was in special measures and results had plummeted to 38% 5A*-C (including English and Maths) in August 2014. Attendance was poor at 92.7% and PA was significantly above national.
After a complete staffing / leadership restructure, curriculum review and the implementation of RMAT policies such as Positive Discipline, Resilience Curriculum and the Coaching Model, aspirations and outcomes for both staff and students began to rise.
The rapid impact of the policies led to a HMI inspection concluding that the academy no longer required special measures and graded Leadership as Outstanding and Behaviour as Good.(March 2015) The GCSE results for 2016 are 23% above FFT D at 66% 5A*-C (including English and Maths). Attendance at the academy is now significantly above national. In February 2017, The Featherstone Academy was inspected and graded as Good overall by Ofsted with a judgement of Outstanding for Personal Development, Behaviour and Welfare.
How New York's Affordable Apartments Compare to Neighborhood Incomes
March 6, 2018
View article below highlighting data and insight on the affordability of the city's "affordable" housing. View article here.

Proposal To Make NYC ULURP Process More Inclusive
February 12, 2018
View article below detailing a working group of over 40 organizations advocating to make the NYC ULURP process more inclusive. Curbed ULURP Article

Vital Brooklyn Initiative
February 8, 2018
Click the link below to review details on Vital Brooklyn Initiative: Vital Brooklyn Initiative

KPMG Future Leaders Program 2018
January 31, 2018
"KPMG is deeply committed to the advancement, development and empowerment of women. As women break glass ceilings in the workplace and excel on the international athletic stage, the influence of women will only continue to grow and affect our society for the better." Review Application here: 2018-KPMG-Future-Leaders-application ***Please note: Deadline is today, January 31, 2018***

Tax Overhaul Is a Blow to Affordable Housing Efforts
January 24, 2018
"It's the greatest shock to the affordable-housing system since the Great Recession," View the article here.

CIM Buys Stake In LIVWRK's Crown Heights Dev Site
January 5, 2018
Vacant lot and stake purchased at 111 Montgomery Street, near the Brooklyn Botanic Garden. https://therealdeal.com/2017/06/29/cim-buys-stake-in-livwrks-crown-heights-dev-site/

As Speaker, Johnson To Take A Different Approach To Land Use Decisions
January 5, 2018
New speaker aims to reform the ULURP process. https://www.politico.com/states/new-york/city-hall/story/2018/01/02/as-speaker-johnson-to-take-a-different-approach-to-land-use-decisions-167141

Draft Investigation Work Plan for Brownfield Site Available for Public Comment
November 28, 2017
Review the Brownfield Cleanup Program Fact Sheet on the Bedford Union Armory site here: Bedford Union Armory Clean up Program Please submit any comments you may have directly as indicated on the fact sheet.

Proposed Zoning Text Amendment: M1 Hotel Special Permit Presentation
November 15, 2017
Please review the proposed zoning text amendment to affect Brooklyn Community District 9, submitted by NYC Planning below: DCP_M1 Hotel Special Permit_Presentation

Jacqueline Welch Funeral Services
November 8, 2017
It is with great sorrow to announce that our Member-at-Large, Jacqueline Welch, has passed away on October 30, 2017. Funeral services are scheduled for Friday, November 10, at 11AM, with the wake and view period from 9 - 11AM only. Located at Bethel Tabernacle, on 90 Schenectady Avenue. Brooklyn, N.Y. 11213

Bedford Union Armory Final Environmental Impact Statement (FEIS) Released
October 25, 2017
The Final Environmental Impact Statement (FEIS) for the Bedford Union Armory (Project ref. number: 16DME005K) was issued on Thursday, October 19, 2017. It is available for review on the Mayor's Office of Environmental Coordination's website here.

CB9 Bedford Union Armory Recommendation
September 27, 2017
Correcting the record on Brooklyn CB9's recommendation on the Bedford Union Armory. The attached forms are to reflect CB9's accurate recommendation: DISAPPROVE. View pdf file here: BUA Recommendation_20170921114329

BZ Variance Application – 527 East New York Avenue
September 27, 2017
Proposed BZ Variance application seeks to authorize the constirction of a five-story and cellar house of worship at 527 East New York Acenue, in the Borough of brooklyn, New York. View pdf files here: 527 ENY Ave_20170921131055; 527 ENY Ave_20170921131155; 527 ENY Ave_20170921131255; 527 ENY Ave_20170921131352; 527 ENY Ave_20170921131428; 527 ENY Ave_20170921131510; 527 ENY Ave_20170921131544

Notice Of Certification Pursuant to ULURP, Application #: C150223P PQK
September 26, 2017
Application #: C150223 PQK Project Name: All My Children DCC 13/15 In the matter of an application submitted by the Administration for Children's Services and the Department of Citywide Administrative Services, pursuant to Section 197-c of the New York City Charter, for the acquisition of property located at 36 Ford Street (Block 1420, Lot 51) for continued use as a child care center. View pdf file here, All My Children Notice Of Certification C150223 PQK

Increased Security Measures for Upcoming 2017 J'Ouvert Celebration
August 21, 2017
The de Blasio Administration, New York Police Department, Mayor's Office of Criminal Justice, J'Ouvert City International and elected officials today announced enhanced parade security measures for the 2017 J'Ouvert Celebration, which will step off on Monday, September 4th at 6 A.M. in Crown Heights, Brooklyn. "J'Ouvert is a major part of West Indian culture. Finding a compromise which allows it to continue helps preserve the culture while increasing public safety during the festivities here in Brooklyn," said  Musa Moore, Chairman, Community Board 9. View the press release, in full, here

Notice of ULURP Public Hearing on the Bedford Union Armory, Monday, June 19, 2017 at 6:30 PM
June 10, 2017
Notice of  ULURP Public Hearing on the Bedford Union Armory  Date: Monday, June 19, 2017 Time: 6:30 PM Location: M.S. 61, 400 Empire Boulevard (corner of New York Avenue), Brooklyn, New York , 11225 Download: Notice of ULURP Public Hearing on the Bedford Union Armory 06/19/2017 View Document [caption id="attachment_4048" align="aligncenter" width="232"] NOTIFICATION OF BROOKLYN COMMUNITY BOARD 9 PUBLIC HEARING[/caption]

TAKE HOME A FREE TREE
May 16, 2017
TAKE HOME A FREE TREE With the help of more than 100 community organizations, NYRP has given away tens of thousands of trees to be planted in New York City! Click Here: https://www.nyrp.org/green-spaces/tree-giveaway/

Town Hall, Thursday, May 11th, 2017
May 5, 2017
Town Hall Meeting Date: Thursday, May 11th, 2017 Time: 6:00PM - 8:00PM Location: Kingsbrook Jewish Medical Center, Lillian Minkin Ballroom 585 Schenectady Avenue  (Between Rutland Rd & Winthrop St) Brooklyn, New York, 11203

Brooklyn Borough Flood Map
April 10, 2017
View the potential flood areas throughout the borough of Brooklyn by community district below. [gallery ids="3795,3796,3797,3798,3799,3800,3801,3802,3803,3804,3805,3806,3807,3808,3809,3810,3811,3812"]

NYSDOT Citi Bike Expansion Plan Released To The Public
April 7, 2017
NYSDOT met with Community Board 9's Transportation Committee on April 5th, 2017 to further discuss the Citi Bike expansion plan, and when to expect the project's commencement in the Crown Heights and Prospect Lefferts Gardens areas. You can view the full Citi Bike Expansion Plan here.

267 Rogers Ave / 211 Crown St Homeless Shelter Town Hall Meeting [PHOTO/VIDEO]
April 7, 2017
The city faced tough questions Thursday night about a plan to open another homeless shelter in the neighborhood, as locals demanded they reconsider the plan and make it low-income housing instead... View full article here.

Councilwoman Tells De Blasio To Keep His Homeless Plan Out Of Crown Heights
April 5, 2017
Read the full article here. "If we're moving in 165 people, let's help them," said Musa Moore, chairman of Community Board 9. "Let's make this permanent and let them stay here. Let the community residents feel comfortable living here."

Town Hall Meeting | Transitional Homeless Shelters
March 31, 2017
Town Hall Meeting | Transitional Homeless Shelters Date: Thursday, April 6th, 2017 Time: 6:00pm - 8:00pm Location: 330 Crown Street (Bet. Nostrand & New York Avenues) [caption id="attachment_3742" align="aligncenter" width="940"] Final Town Hall Meeting Flyer (1)[/caption]

Office Of Sustainability Newsletter March 2017
March 23, 2017
Office Of  Sustainability Newsletter March 2017 May 22 2017, DOE Sustainability Showcase and more Information. Download: Office Of Sustainability Newsletter March 2017

CB9 Scoping Comments
March 20, 2017
CB9 Scoping Comments | March 17 2017 Download: CB9 Scoping Comments

SYEP Applications Extended Through March 31
March 17, 2017
NYC Youth Employment The Summer Youth Employment Program is now accepting applications until Friday, March 31, 2017. If you are a NYC youth between the ages of 14–24 who is looking for valuable work experience and earning money this summer, please complete the SYEP application and take the first step to landing your dream summer job. Apply now at application.nycsyep.com.

Winter Weather Information
March 13, 2017
SUMMARY - A major winter storm will impact New York City tonight Through Tuesday. Download PDF: Weather-Consult WHAT: A major winter storm with blizzard conditions. Snowfall rates of 2-4 inches per hour is possible between 5:00 AM and 1:00 PM. Some whiteout conditions are possible during this timeframe. The storm track is trending farther north and west, which may result in warmer temperatures and for some areas to see less snow and other areas to see the addition of sleet. 12-17 inches of snow across much of NYC is expected, with the higher totals seen in Manhattan, the Bronx, and Northern Queens. The worst case scenario would see NYC getting 21-24 inches of snow. Windy conditions, with sustained winds of 30-35 MPH and 50-55 MPH gusts are expected. Coastal flooding, minor to locally moderate impacts are possible. WHEN: Snow is expected to begin after midnight tonight. Coastal flooding during high tide cycles Tuesday morning into the afternoon. Heaviest bands of snow expected between 5:00 AM to 1:00 PM. Snow begins to taper between 3 PM and 5 PM, however; some snow showers are possible through Wednesday. Windy conditions are expected tomorrow morning through late afternoon. SNOW ACCUMULATION POTENTIAL: Expect at least: 1-7 inches (10% chance) Most likely: 13-17 inches (80% chance) Potential for: 21-24 inches (10% chance) Visit http://www.weather.gov/okx/winter for more information TEMPERATURES (High/Low) Tonight: Low temperature around 30 degrees. Wind chill values between 15 and 25. Tuesday: 32/21. Wind chill values between 10 and 25. Wednesday: 32/20. Wind chill values between 10 and 15. PRODUCTS: · A Blizzard Warning in effect from March 14, 12:00 AM until March 15, 12:00 AM. · Coastal Flood Advisory ...Read More

Youth Conference March, 23rd, 2017, 4-7 PM at Medgar Evers College
March 8, 2017
Youth and Education Forum (Youth Conference) Date: March 23rd 2017 Time:  4-7 PM Teens & Youth encouraged to attend (Age 14-24). Learn about: Summer jobs, internships, apprentice Opportunities & more. Location: Medgar Evers College- 1638 Bedford Avenue Brooklyn Ny 11225 Download: Youth Confrence Flyer

FY 2018 Budget
February 1, 2017
FY 2018 Budget FY 2018 JAN REGISTER_Brooklyn CB 9 FY 2018 GeoCommitmentPlan_BROOKLYN 9 (1)

DOHMH Commissioner's Regulation – 24RCNY New Chapter 5 – Pet Shops
February 1, 2017
The attached proposal was approved for publication by Commissioner Bassett for the Department of Health and Mental Hygiene. Published in the City Record on Tuesday, January 31, 2017. New Chapter 5_NOI_Pet Shops_1-31-17 Also posted on the Department's website: http://www1.nyc.gov/site/doh/about/hearings-and-notices/official-notices.page and on NYC Rules site: http://rules.cityofnewyork.us.

Keeping New Yorkers informed with Voting.NYC
February 1, 2017
This year, New Yorkers will vote and decide the course of New York City's future. We have been able to inform and register thousands of New Yorkers to vote. We appreciate the continued support and hard work. As we approach the Municipal Election we want to ensure the New Yorkers have all the information they need to vote. Click Here access to all information in regards to voting. http://www.voting.nyc

RESTRUCTURING OF COMMUNITY HOSPITALS
December 8, 2016
Check out an in depth look on potential restructuring of community hospitals. The Brooklyn Study: Reshaping the Future of Healthcare, Restructuring and investing in healthcare delivery in the communities brooklyn-healthcare-transformation-study_0

Community Risk Ranking 2106
December 8, 2016
Community Risk Ranking 2106 2016-ccc-community-risk-ranking The report shines a light on the stark disparities experienced by children across the city – the highest-risk communities cluster in upper Manhattan, the south Bronx and central Brooklyn, while children growing up in neighborhoods just a few blocks or a brief subway ride away experience significantly lower risks. Just one example of these inequities is in Brownsville, Brooklyn where infants are three times more likely to die before their first birthday than infants in Borough Park.

Tree Giveaway @ Flatbush Library
October 3, 2016
Thanks to our partnership with the New York Restoration Project, we're giving away free trees at Flatbush Library on Saturday, October 8, at 12 pm. There are a limited number of trees, so register now to guarantee your tree. RESERVE YOUR FREE TREE >> We've got so much going on at Flatbush Library on Saturday! Join us for a fall Open House and enjoy steel pan music, Saturday Storytime from 2-3 pm and fun activities for the whole family. We're celebrating rain or shine! To qualify for a free tree, you must agree to plant your tree in one of the five boroughs, in the ground of your yard (not along streets or in containers) and keep trees properly watered and maintained. Saturday, October 8 from 12 pm to 2 pm Flatbush Library 22 Linden Boulevard Register now! P.S. If you're interested in volunteering at the event, we need help! Please contact Mike Fieni at mfieni@bklynlibrary.org.

Why Don't Housing Voucher Recipients Live Near Better Schools? Insights from Big Data
August 17, 2016
This paper by Ingrid Gould Ellen, Keren Mertens Horn, and Amy Ellen Schwartz, published in the Journal of Policy Analysis and Management, uses administrative data to explore why voucher households do not live near to better schools, as measured by school-level proficiency rates. It seeks to shed light on whether voucher households are more likely to move toward better schools when schools are most relevant, and how market conditions shape that response. The authors find that families with vouchers are more likely to move toward a better school in the year before their oldest child meets the eligibility cutoff for kindergarten. Further, the magnitude of the effect is larger in metropolitan areas with a relatively high share of affordable rental units located near high-performing schools and in neighborhoods in close proximity to higher-performing schools. Results suggest that, if given the appropriate information and opportunities, more voucher families would move to better schools when their children reach school age. Click here to view the full report.

Selling the Debt: Properties Affected by the Sale of New York City Tax Liens
August 17, 2016
This data brief sheds light on the process of tax lien sales in New York City, which affected over 15,000 properties and roughly 43,600 residential units between 2010 and 2015. It finds that most tax liens in New York City eligible for sale are sold and generate substantial revenue for the city; between 1997 and 2015, the city raised more than $1.3 billion from the sale of tax liens. However, the city also has the power to remove liens eligible for sale from the lien sale list. The report also describes the characteristics of properties with liens sold in New York City between 2010 and 2015, including the property type, their location, and the outcome following the lien sale. Click here to view the full report.

Examining the Home-Buying Potential for Households at Various Income Levels in New York City and Surrounding Counties
August 17, 2016
A report released last week by the NYU Furman Center and Citi, titled, NYU Furman Center / Citi Report on Homeownership & Opportunity in New York City, analyzes recent home sales data and examines the potential purchasing power of households at various income levels in New York City, as well as the nearby counties of Nassau, Suffolk, and Westchester. The study finds that becoming a homeowner in New York City's real estate market is a considerable challenge for the vast majority of New York City households. While roughly half of the city's households (51%) earn $55,000 or less annually, they could afford just 9% of 2014 home sales. Even households earning up to $114,000 annually could only afford 42% of home sales in New York City. Homeownership prospects do not necessarily improve by moving out of the city to the surrounding New York suburbs. Click here to view the full report.

DSNY Announces Next Round of SAFE Disposal Events
August 5, 2016
More than 14,000 Residents Brought more than 1.3 Million Pounds of E-Waste, Harmful Household Waste and Unwanted Medications to First Round of Events More than 14,000 residents brought potentially harmful household materials to the five citywide SAFE (Solvents, Automotive, Flammables, and Electronics) Disposal events held earlier this year. In partnership with NYC Parks & Recreation, Columbia University, NYPD, Veolia and ERI, the New York City Department of Sanitation collected more than 1.3 million pounds of electronics, harmful household materials and unwanted medications. "Every year, more and more residents attend our SAFE Disposal Events," said Sanitation Commissioner Kathryn Garcia. "These events provide a safe and convenient option for New Yorkers to dispose of their old computers and TVs, as well as other harmful household products, like household chemicals, paints and medications." The next five SAFE Disposal events will be: ·       Bronx Saturday, August 13 Fordham University Parking Lot on Southern Blvd Cars approach from Bedford Park Blvd ·       Brooklyn Saturday, August 27 Floyd Bennett Field Flatbush Ave/Marine Pkwy Cars enter along Flatbush Ave and make a left into the main entrance, immediately before the toll bridge ·       Queens Saturday, September 17 Astoria Park Parking Lot - Hoyt Ave and 19th Street Cars enter from Ditmars Blvd onto 21st Street ·       Manhattan Sunday, September 25 Union Square North Plaza South of 17th St between Park Ave & Broadway Cars enter at Park Ave & 18th St ·       Staten Island Saturday, October 22 Midland Beach Parking Lot - Father Capodanno Blvd and Hunter Ave Cars approach from Slater Blvd Residents unable to attend these events should visit www.nyc.gov/safedisposal or contact 311 for year-round options to handle items ...Read More

DCAS Exam Sschedule – July 2016
July 9, 2016
DCAS EXAM SCHEDULE – JULY 2016 The Department of Citywide Administrative Services (DCAS) is accepting applications for the following civil service exams. So don't delay, apply today! Monthly Exam Schedule: See the Monthly Applications Schedule for additional information regarding the exams that are available this month.  Apply for exams online: Go to the DCAS Online Application System (OASys) at www.nyc.gov/examsforjobs and follow the onscreen application instructions for electronically submitting your application and payment, and completing any required forms. If you do not have access to a computer, visit one of our Computer-based Testing & Applications Centers (CTACs) to use our computers to submit your application (see below). Apply and schedule yourself for computer-based exams online: Go to the DCAS Online Application System (OASys) at www.nyc.gov/examsforjobs to apply and schedule yourself to take a computer-based exam offered at the CTACs. If you do not own or have access to a computer, visit one of our CTACs to use our computers to submit your application. CTAC Locations:  2 Lafayette St., 17th Floor, Manhattan, NY and 210 Joralemon St., 4th Floor, Brooklyn. Hours:  9:00 AM - 5:00 PM, Monday through Saturday, unless otherwise noted. Travel directions to CTACs

Prospect Park Improvements
July 9, 2016
Dear Friend, For the millions of Brooklyn residents who consider Prospect Park their backyard, exciting changes are on the horizon. Thanks to the support of our elected officials, the Prospect Park Alliance is delighted that the recently approved City budget includes significant capital investments in the Park: Speaker Melissa Mark-Viverito and the Brooklyn delegation of the City Council have pledged $2.5 million to restore Lefferts Historic House. As part of the Alliance's focus on improving the northeast corner of the Park, Mayor de Blasio has set aside $2 million for pathway improvements. Borough President Eric Adams and Council Member Mathieu Eugene dedicated $1,750,000 to restore the Ocean Avenue perimeter. Council Member Brad Lander contributed $750,000 for the ongoing restoration of the Long Meadow Ballfields. Council Member Laurie Cumbo funded $500,000 to restore the historic Carousel. Council Member Stephen Levin contributed $100,000 for a pilot program to improve the Park Drive's running lane with a stretch of softer surface material that also improves drainage. Through the participatory budgeting process, Council Members Eugene and Lander teamed up to fund a new aquatic weed harvester, and joined Borough President Eric Adams to fund a new dog run at the Parade Ground. Lander also funded five new freeze-resistant, year-round drinking fountains and Eugene funded new community barbecue sites. This funding comes after the recent announcement that Prospect Park was awarded funding through NYC Parks' Parks Without Borders initiative, which will improve and open new entrances to the Park along Flatbush Avenue. Prospect Park Alliance staff will begin to design and plan this wide variety of projects in 2016, and will be busier than ever improving many areas of the Park over the coming years. ...Read More

The New-York Historical Society – Musem & Library
July 9, 2016
The New-York Historical Society is proud to offer free visits and programs to community based organizations working with underserved NYC teens. These opportunities are possible thanks to the generous support of The Keith Haring Foundation. Through the Keith Haring Fund for Youth Audiences, community based organizations that provide services to disadvantaged New York City teens can access free, guided 90-minute museum learning experiences. All current museum offerings for middle and high school students are available. For details on how to book your free program, please contact us at 212-485-9293 and mention the Keith Haring Fund for Youth Audiences.

Cooling Program for New Yorkers at Risk in Summer Season
June 1, 2016
Brooklyn Weekly Milling and Paving Schedule – May 2016
May 22, 2016
Download the full PDF

Brighton Line Track Construction
May 19, 2016
Please be aware that the MTA NYC Transit Track Construction Division has scheduled the renewal of mainline track along the Brighton B Q line between the Prospect Park and Parkside Avenue stations commencing on Friday, May 27th, 2016 and ending on Tuesday, May 31st, 2016.  We are scheduled to work 6:00 a.m. until 8:00 p.m. on Friday for preparatory work, which consists of the staging of street cranes, track panels and related materials at the crane locations listed below.  Track replacement will commence at 8:00 p.m. Friday and work continuously until 5:00 a.m. Tuesday morning (Monday is a holiday). Street cranes will be placed adjacent to the structure for the purpose of hoisting and lowering of track panels and materials; we will have a maximum of (2) crane sites per day and the locations will be determined by the section of track being replaced. Flagging and traffic devices will be used for the safety of the general public. Parking will be restricted at each street crane location for 150' along each curb lane to allow the placement of a street crane and materials. Crane Locations: 1.   Beekman Place between Flatbush Ave & Dead End (Road Closed, 06:00 hrs. Friday-05:00 hrs. Tuesday) 2.   Chester Court between Flatbush Ave & Dead End     (Road Closed, 06:00 hrs. Friday-05:00 hrs. Tuesday) 3.   Westbury Ct between Flatbush Ave & Dead End     (Road Closed, 06:00 hrs. Friday-05:00 hrs. Tuesday)

Affordable Housing Lottery Open Now
May 19, 2016
461 DEAN AFFORDABLE HOUSING LOTTERY OPEN NOW Brooklyn's newest residential building, 461 Dean Street is now accepting applications for below-market rate studios, 1 and 2 bedrooms interspersed throughout the luxury rental building. Scheduled to open this fall, 461 Dean Street sits on the corner of Dean Street and Flatbush Avenue in Pacific Park, Brooklyn. Pacific Park is Brooklyn's newest neighborhood, bounded by Atlantic and Flatbush Avenues, to the east of Barclays Center. The housing lottery for 461 Dean's below-market units is now open to mixed-income applicants earning between $20,675 – $144,960. The window to enter the housing lottery for 461 Dean is open until June 27, 2016. Submit Your Application online or via mail Step 1 Learn more about the building, qualification requirements and application process at AFFORDABLE.461DEAN.COM or by calling 718-246-8080 x224. Step 2 Gather the required documents and submit your application to NYC House Connect https://a806-housingconnect.nyc.gov/nyclottery/lottery.html. Step 3 We will begin contacting selected applicants in Summer 2016. You will be contacted only if your application is selected in the random lottery process and your application meets the requirements.

New Research on Affordable Housing and Historic Districts
May 16, 2016
Affordable housing dominates New York City's public policy discourse. And for years, it's been used as a tool to attack historic preservation efforts. Until now. The Historic Districts Council engaged an independent housing and planning consultant to analyze the data and get the facts. Funded by the New York Community Trust, the result is the first-ever quantitative and peer-reviewed study of the interplay between affordable housing and historic district designation in our city. Here's what we discovered: Historic districts mean stable housing. Rent burden increases at a slower rate in historic districts than in the rest of the city, and tenants are almost always likelier to retain their rent subsidies. Historic districts don't make the rent too damn high. Incomes tend to rise with rents in historic districts, and subsidized housing is built even after historic districts are designated. Read more and spread the word: Executive Summary Full Report

Youth Matter is a Program for Teens
May 14, 2016
Youth Matter is a program supporting SEEK and College Discovery students at The City University of New York who are currently in or previously were in Foster Care, are orphans, or wards of the court.  Youth Matter was established to help facilitate the retention and graduation rate of foster youth in college. Youth Matter's Mission: To enhance the lives of all children, with a focus on preventive programs for at-risk youth. To build self-esteem and values in the lives of the youth – tomorrow's leaders. To educate youth about living a more healthy lifestyle through nutrition education and physical activities, promoting education and mentoring, creating much-needed after-school programs. To provide resources for youth and families through partnerships and community development initiatives. To remind all that "Youth Matter." What makes Youth Matter Inc. different? Youth Matter Inc. is not just another non-profit organization, but an organization with a message and a mission. Youth Matter, Inc., also doing business as Youth Matter America, is a group of adults and youth dedicated to making a positive difference in the lives of youth of all ages, regardless of race or creed, taking on the challenge to find solutions for problems that face them and their families, and not fearful of being the first to do something that needs to be done. Our focus is on at-risk youth and families. There are many concerns facing today's youth. In every community there are hundreds of girls and boys left to find their own recreation and companionship in the streets. An increasing number of children spend many hours at home with no adult care or supervision, or no one to help them with homework. Dependent youth sometimes ...Read More

There Goes the Neighborhood
April 14, 2016
An in-depth look at the gentrification of Brooklyn, from the developers to the mayor's plan for affordable housing, to the integral role that race plays in the process. Produced by The Nation and WNYC Studios. http://www.wnyc.org/shows/neighborhood/

NYC Department of Youth & Community Development – Summer Youth Employment Program 2016
March 3, 2016
Summer Youth Employment Program (SYEP) - 2016 is open to all NYC residents between the ages of 14-24. The deadline to submit applications is April 15, 2016. Click here to apply: https://application.nycsyep.com/

Information about Tax Lien Sale
March 2, 2016
ATTENTION PROPERTY OWNERS!!   If you have real estate taxes, water bills and other charges against your property that have not been paid, your property may be on the 2016 90-Day Lien Sale List that was recently published by the New York City Department of Finance for the Lien Sale that will take place on May 12, 2016.  Visit the NYC Department of Finance website at http://www1.nyc.gov/site/finance/taxes/property-lien-sales.page for additional information about the Lien Sale and to see if you qualify for certain personal exemptions that may exclude your residential property from the lien sale.   Community District 9 residents can download a copy of the 90-Day Lien Sale List by clicking here.   Lien Sale outreach events will be held at the NYC Department of Finance - Brooklyn Business Center located at 210 Joralemon Street, 2nd Floor, Brooklyn, New York 11201 on March 15th and March 29th, 2016 from 5:00PM to 7:00PM.

Amended Notice of Joint Public Hearing and Educational Impact Statement
February 19, 2016
The Proposed Re-siting and Co-Location of Medgar Evers College Preparatory School (17K590) to Building K455 with Boys and Girls High School (16K455), Research and Service High School (16K669), and Nelson Mandela High School (16K765) Beginning in the 2016-2017 School Year The purpose of these hearings is to provide the public with an opportunity to present comments. K455 Joint Public Hearing: When: March 9, 2016 Time: 6:00 PM Where: Building K455, 1700 Fulton Street, Brooklyn, NY 11213 K590 Joint Public Hearing: When: March 16, 2016 Time: 6:00 PM Where: Building K590, 1186 Carroll Street, Brooklyn, NY 11225 Sign up for public comment will begin at 5:30 PM and close 15 minutes following the start of the hearing. An amended Educational Impact Statement ("EIS") describing the proposal is available in the main offices of the schools listed above, and at http://schools.nyc.gov/AboutUs/leadership/PEP/publicnotice/2015-2016/March232016PanelMeeting. The PEP will consider and vote on this amended proposal on March 23, 2016 at 6:00 PM at Murry Bergtraum High School, located at 411 Pearl Street, New York, NY 10038. Written comments can be sent to: D16Proposals@schools.nyc.gov Oral comments can be called in to: 212-374-0208 Attendees with disabilities or with concerns about access to the hearing site should call: 212-374-0208 This document can be downloaded in full from here: http://www.communitybrd9bklyn.org/docs/DOE%20-%20MEC%20Prep%20-%20Second.pdf

Note from CB9 Land Use Chairman – Michael Liburd
February 12, 2016
FYI on a just filed development on Clarkson between Bedford and Flatbush.  It's the latest example of what Richard Bearak described during Tuesday's committee meeting:  developers taking advantage of what the current zoning allows them to do.  This lot has had small buildings for decades.  However, it's zoned R7-1 which allows Brookland Capital to build as described in the article for the currently ripe market. Please share this information with your neighbors as we continue to plan the most effective ways to address/stop this kind of development.  Thanks for participating on Tuesday and stay warm. http://newyorkyimby.com/2016/02/permits-filed-77-clarkson-avenue-prospect-lefferts-gardens.html?ct=t(YIMBY_News_02_12_2016)

Note from CB9 Land Use Chairman – Michael Liburd
February 4, 2016
See the attached article on the City Planning Commission's approval of the ZQA/MIH proposals. It's the City Council's turn next. Their vote makes it law. From this article, sounds like City Planning is putting the burden on the City Council to make the final decision on modifications to the plan, whether they pass it or not. Community Board 9 voted "no" on both proposals. The City Council's public hearings start next week on Tuesday, February 9th and Wednesday, February 10th at 9:30 am – Council Chambers – City Hall . It will be one of the few remaining chances for the public to formally voice their point of view directly to the decision makers. I hope you make the time to attend. https://www.dnainfo.com/new-york/20160203/civic-center/de-blasios-controversial-rezoning-plan-approved-by-planning-commission

Release of the Worst Landlords Watchlist
November 24, 2015
Friends, Every tenant deserves to live in safety and security and every apartment needs to meet basic standards of decency. That's why, today, my office released our annual Worst Landlords Watchlist. This Watchlist identifies the landlords in our City who are neglecting and harassing tenants, and puts them on notice. We will not tolerate this type of behavior in New York City. This list also provides tenants with the resources, tools, and support they need to stand up to bad landlords and protect their rights. This year's list is stronger than ever, with data from Housing Preservation and Development, Department of Buildings, and Housing Courts in the City to provide even stronger support to tenants. We look at this worst landlords list as an equalizer. Landlords have their own list of tenants they do not want in their buildings, so we are keeping track of the worst of them. The list is not a cure-all, but we have seen improvements in buildings from previous year's and we will continue to hold these landlords accountable until all New Yorkers have a safe and decent home.

The High School Apprenticeship Program – Museum of Jewish Heritage
October 13, 2015
New York City public and charter high school students can apply now for a PAID in-depth spring-summer 2016 internship where they learn about history, different cultures, and making a difference in the world. The High School Apprenticeship Program offers New York City public and charter high school students a challenging program of work and study as they learn about Jewish heritage, the Holocause, and what goes on "behind-the-scenes" at a museum. TRAINING: (February through June) Apprentice participants in after-school seminars twice a month. Apprentices are then prepared for a summer of employment at the Museum. SUMMER EMPLOYMENT: (End of June through mid-August) Apprentices have full-time, paid positions at the Museum. Through a close mentoring relationship with staff, Apprentices explore all aspects of the Museum as well as hear survivor testimony, go on field trips, and lead tours for summer youth groups. Students from all backrounds from New York City public and charter high schools are encouraged to apply. Download an application from www.hsap@mjhnyc.org. Please note that a complete application includes: the application form, essays, a high school transcript, and a teacher recommendation. Questions? Call 646-437-4303

Learn About New York State Judicial Candidates
October 13, 2015
Judges make decisions that affect your everyday lives, to uphold the constitution and protect your rights Your vote helps determine who should serve as a trial court judge in New York State Your vote helps ensure that the justice system functions properly. It's your civic responsibility Go to NYcourts.gov/vote, a non-partisan website, to learn about the judicial candidates in your district.

BBG Garden Apprentice Program
October 9, 2015
Brooklyn Botanic Garden's garden-based, hands-on apprenticeship for students in grades 8-11 Work with other teens and build valuable job skills as you learn about urban agriculture and the environment in one of the world's most renowned public gardens! Acceptance into each tier of GAP is through a competitive application process and requires a nine-month commitment, March through November. Rising apprentices earn increasing levels of compensation. Tiers Tier 1 Grades 8-9 - Assist instructors in Children's Garden Programs Tier 2 Grade 10 - Work alongside educators and horticluturists Tier 3 - Grade 11 - Create education stations for Garden visitors Tier 4 - Work as paid staff in the Children's Garden after successful completion of Tier 3 Information Session: Saturday, November 7, 2015, 3:30 pm - registration required. To register contact BBG at: gap@bbg.org or 718-623-7252. Applications for 2016 are available online at bbg.org/gap, due December 2, 2015

KCC – My Turn Program
July 28, 2015
The "My Turn Program" at Kingsborough Community College is an educational opportunity for individuals 60 years or older to attend college tuition free. NYS residents 60 years or older are qualified to attend classes as matriculating or non-matriculating students. More than 400 courses are available including art, music, history, computers, health education, literature and other subjects.  My Turn students attend classes with traditional students. Facilities available to students include the library, gym, pool, tennis court and private beach. For further information or an application call: (718) 368-5079 or visit: www.kbcc.cuny.edu/myturn

2015 Summer Youth Academy
May 19, 2015
Applications are to be submitted by Friday May 29th, 2015. New York City residents, attending school, between the ages of 10 and 16 are eligible to attend. The Youth Police Academy will provide those participating in the program with lunch and uniform shirts. The Youth Police Academy is a six (6) week program that will hold sessions five (5) days a week. The Academy will open at 8:30 am in the morning and dismissal will be 2:00 pm in the afternoon. Students will attend classroom sessions with lectures, role-plays and topical demonstrations by police officers in the areas of law, behavioral science, drug prevention and gang resistance. Field trips to a Police Department facility or a City park are also part of the curriculum. Transportation to and from the field trips will be provided. Each site is accessible by public transportation. The goals of the academy are: To enhance responsible citizenship. To provide positive interaction with police officers and to educate young people about the challenges and responsibility of police work. To encourage young people to take part in other youth programs offered by the Police Department such as: the Law Enforcement Explorers, Police Cadet Corps and the Police Athletic League. The program is an unique experience for city youth to steer away from negative roads, especially in the hot summers months when school is out, and on to positively proactive and constructively paths. Download the 2015 Youth Police Academy (YPA) application For more information Click here Watch this Short Video regarding the Academy There are other programs available such as Explorer.

After 38 Years of Service, Col. Jacob Goldstein Retires
May 9, 2015
After 38 years of dedicated service in the U.S. Army, Chaplain Colonel Jacob Z. Goldstein has retired. In a ceremony in the Joint Base Myer-Henderson Hall at Fort Myer, Virginia, 35 army personal retired, with Col. Goldstein leading the group with his 38 years of service. Attending the event were members of Goldstein's family, along with a number of area Shluchim. During the event Col. Goldstein spoke and gave thanks to his family for putting up with his 38 years of service. "At least I won't be cutting anymore family vacations short because I was called up," he said. Col. Goldstein attributed his success in the army to the Lubavitcher Rebbe - who gave his blessing when asked if he should join the army as a chaplain, saying "Nachon Hadavar" [it is correct] – and to his family, for putting up with his often times chaotic schedule. Later, at a second event in the Chaplain Hall, his son Dr. Asher Goldstein presented him with an enlarged photograph of the chaplain receiving a dollar from the Rebbe after returning from the Gulf War. During the ceremonies, Col. Goldstein was presented with a number of certificates and awards from President Barak Obama, the Chief of Chaplains and the Office of the Army. Source: crownheights.info

Summer Youth Employment
April 7, 2015
The deadline has been extended to Friday, April 24, 2015, to submit applications for Summer Youth Employment. Submit applications online at:  https://application.nycsyep.com

626 Flatbush Apartments
April 6, 2015
626 FLATBUSH APTS is pleased to announce that applications are now being accepted for 51 affordable housing rental apartments now under construction in Brooklyn.  This building is being constructed throug Seep Rent Skewed and Low Income Housing Tax Credit Programs and Financing provided by New York State Housing Finance Agency's (HFA.)  The size, rent and income requirements of the 51 units can be found in the link below. Applicants will be required to meet income and additional criteria.  Information on this matter can be found in various periodicals over the next few weeks such as El Diario, the Amsterdam News, AMNY , and the Brooklyn Courier and Brooklyn Paper. 626 Flatbush Apartments

Zoning for Quality and Affordability proposal
March 25, 2015
As part of Housing New York, the Mayor's ten-year, five-borough plan for housing affordability, the Department of City Planning is proposing the Zoning for Quality and Affordability initiative. This set of amendments to the Zoning Resolution is intended to: Remove barriers that constrain housing production and raise costs, Encourage better quality buildings that contribute to the fabric of neighborhoods, Promote senior housing to address the affordable housing needs of an aging population, and Reduce unnecessary parking requirements for affordable housing The latest information about the Zoning for Quality and Affordability proposal, including illustrated presentation materials, are available on DCP's website, at http://www.nyc.gov/html/dcp/html/zoning-qa/zoning-for-affordability-1.shtml

Ringling Bros. and Barnum & Bailey Presents CIRCUS XTREME!
February 5, 2015
To request $10 Neighborhood Vouchers, please email tkelly@brooklynse.com with following information: Name Title Organization Address Emergency Contact (phone number) Vouchers requested (max. 100) Event Information: http://goo.gl/MT7ine Group Pricing & Special Offer Codes: http://goo.gl/gv9bPu Good Only: Tuesday, February 24th 2015 @ 7pm Deadline to Redeem at Box Office: Monday, February 23rd 2015 @ 5pm Each Neighborhood Voucher can be used towards purchase of up to six (6) tickets at $10 each. No more than six (6) Vouchers may be redeemed per box office visit. Voucher can only be redeemed in person at the Box Office at Barclays Center during regular business hours.

Mayor de Blasio Announces the Next Phase of NYC's Young Men's Initiative, Opening New Doors for Young Men of Color
January 31, 2015
NEW YORK—Mayor Bill de Blasio today announced the next phase of New York City's Young Men's Initiative (YMI), including significant new commitments by the City to confront inequality and create opportunity for young men of color. First launched by Mayor Bloomberg in 2011, YMI's programming will align with President Obama's "My Brother's Keeper" initiative, launching four new programs aimed at increasing literacy in young children, improving graduation rates and workforce readiness, as well as protecting youth from violent crime. To spearhead the next phase of YMI, Mayor de Blasio named Cyrus Garrett, a veteran of Everytown for Gun Safety and Organizing for America, as its new executive director. The announcement was made at the new Jobs-Plus Center at the Van Dyke Houses in Brownsville, which opened this month and is funded by the Young Men's Initiative and administered by the NYC Human Resources Administration in partnership with the New York City Housing Authority, Center for Economic Opportunity, and Department of Consumer Affairs. The center expects to serve 1,600 local residents with job placements, training, financial counseling, and a range of supportive services. YMI works to connect black and Latino young people to opportunities and support that can lead them to success. Black and Hispanic young men have 1.6 times the high school dropout rate of their white peers, and they are 1.3 times more likely to be unemployed and 6 times more likely to have a felony conviction. YMI seeks to address these disparities. The initial phase of YMI focused on the launch of new programs targeting young men of color. This next phase will focus on overhauling City agencies' approach to interacting with and serving these populations. ...Read More

Property Value Workshop
January 21, 2015
The Department of Finance has scheduled evening and day session Notice of Property Value workshops in each of the five boroughs. This is an opportunity for property owners to meet with representatives from the Department of Finance and the NYC Tax Commission to: - Ask questions about your property's Market and Assessed Values. - Learn how to dispute your property's Assessed Value. - Learn how to get your property description changed (for example, the number of units in your building or square footage). - Learn about tax benefits and how to apply for them. Please visit our website for a complete listing of dates, locations and times from our calendar: http://www1.nyc.gov/site/finance/about/finance-calendar.page#february Reminder: The deadline for the Homeowner Tax Benefits Application is fast approaching. The application must be postmarked no later than March 16, 2015 in order for eligible homeowners to receive benefits beginning July 1, 2015. The External Affairs Outreach Unit's phone number has changed. Our new number is 212-602-7004.

Earned Income Tax Credit Awareness Day!
January 8, 2015
Hundreds of thousands of New Yorkers are missing out on anywhere from $2,000 to $10,000 in tax credits, like the Earned Income Tax Credit and Child Care Tax Credit. About 25% of eligible working families fail to claim their money – money families need to help pay for daily necessities – because many people don't know about these programs. Our fellow New Yorkers need information on how to get these credits and how to get free tax preparation and financial counseling to make the most of their refund – and YOU can help make it happen. Please forward this message widely  to your community and share online here! ON SATURDAY, JANUARY 31 THE NYC DEPARTMENT OF CONSUMER AFFAIRS IS HOSTING THE FIRST EVER PHONE-A-THON TO LET OUR FRIENDS AND NEIGHBORS KNOW ABOUT REFUNDABLE TAX CREDITS. YOUR TWO HOURS WILL HELP A FAMILY MAKE ENDS MEET. DATE: Saturday, January 31, 2015 TIME SLOTS AVAILABLE:           11 a.m. to 1 p.m. 1 p.m. to 3 p.m. 3 p.m. to 5 p.m. PLACES:  A location in every borough! Click here for locations. Register now to volunteer! OTHER WAYS YOU CAN HELP Spread the word about January 31 on Twitter or Facebook and use #GotMyRefund! Follow the Department of Consumer Affairs (DCA) on Twitter (@NYCDCA), Like us on Facebook, and share important information, ask questions, or let us know how DCA is working for you. Be sure to tag us @NYCDCA.

Department of Homeless Services (DHS) annual Homeless Outreach Population Estimate (HOPE)
January 8, 2015
On Monday, January 26, 2015 the Department of Homeless Services (DHS) will conduct its annual Homeless Outreach Population Estimate (HOPE) Count. This is a unique opportunity for you and members of your community to volunteer and participate in an extraordinary citywide effort. To assist us with this effort, DHS needs approximately 3,000 volunteers to help survey the number of homeless individuals living on city streets, parks and in other public spaces throughout New York City. The participation of our fellow New Yorkers is critical. We encourage those who have volunteered before to sign up again, and for first-time volunteers to join us in our efforts to accurately count the number of street homeless individuals. If you, your staff, or members of your community are interested in volunteering as surveyors, please visit https://a071-hope.nyc.gov/HOPE/welcome.aspx to register. Volunteers assist from approximately 10:30 p.m. to 4:00 a.m. Currently, 1 in 2,662 New Yorkers are street homeless, in a City with a population of more than 8 million. New York City's street outreach operation has moved more than 4,000 chronically homeless individuals from the streets into housing since the program's inception in 2007. With 24/7 outreach teams mobilized in all five boroughs, specialized housing set aside for the street homeless and targeted funding to ensure that adequate resources reach the individuals most in need, New York City is the national leader in making investments to bring individuals living on the street into shelter.

Community Board 9 Brooklyn Launches SHOP LOCAL to Support Local Merchants
December 30, 2014
SHOP LOCAL CB9 is sponsored by PLS Financial, in conjunction with the Parkside Empire Flatbush Avenue Merchants Association, the Nostrand Avenue Merchants Association and Community Board 9's Economic Development Committee will launch it's 2 ½ month program to promote it's small businesses for the 2014 holiday season. A press conference is scheduled for Saturday, November 29, 2014, 11:00 AM in front of Community Board 9's office, 890 Nostrand Avenue, Brooklyn, New York (between Carroll and President Streets) to kick off this program. Approximately 150 small businesses in Community District 9 are participating in the three major event days: Saturday, November 29th: "Get to know your local Merchants"; Saturday, December 13th and Sunday, December 14th: "Shop Local for the Holidays". Shop Local will encourage residents to support their local merchants, by creating visibility and foot traffic through decorations, seasonal giveaways, free beverages, food and seasonal activities on event days. The individual merchants will be offering promotions to the shoppers as well as a limited supply of reusable shopping bags. The program will be supported through print, media, the merchant associations, the merchants and Community Board 9. Pia Raymond, Vice Chair of CB9's Economic Development Committee notes: "We have merchants who have been committed to the vitality of our local economy for decades and newly established small businesses that are catalyzing its growth. Shop Local CB9 is igniting the energy of our business owners and residents to Shop Local, Shop Small and support our business community this holiday season." Thank you to PLS Financial as "Event Sponsor" through its 5 consumer financial service offices in our district for providing the funds and playing a leadership role in supporting our community. We invite ...Read More

Kindergarten Admission
December 28, 2014
The kindergarten admission process is about to begin. For children born in 2010, the application period opens on January 7 and closes on February 13. Placement offers will be distributed in early April and pre-registration at schools starts in April. Like last year, families can apply online by visiting www.nyc.gov/schools/kindergarten, over-the-phone by calling (718)935-2400 between 8 a.m. and 6 p.m. Monday through Friday or in person at one of the Family Welcome Centers http://schools.nyc.gov/ChoicesEnrollment/NewStudents/WelcomeCenters/default.htm This year the kindergarten application is translated into nine languages on-line, and the Family Welcome Centers will have translated paper copies of the applications as well. Kindergarten Admissions Information Session will be held next month in each borough: Borough Location  Date Event Time Bronx Theodore Roosevelt Educational Campus 500 East Fordham Road 1/8/2015 6:00 PM - 7:30 PM Staten Island The Michael J. Petrides School, Building C 715 Ocean Terrace 1/8/2015 6:00 PM - 7:30 PM Manhattan The High School of Fashion Industries 225 West 24th Street 1/12/2015 6:00 PM - 7:30 PM Brooklyn Prospect Heights Educational Campus 883 Classon Avenue 1/13/2015 6:00 PM - 7:30 PM Queens Forest Hills High School 67-01 110th Street 1/13/2015 6:00 PM - 7:30 PM For more information, visit the Kindergarten Admissions website. If families have any questions or concerns with filling the application, they should contact ES_Enrollment@schools.nyc.gov.

Heavy Traffic delays 6PM to Midnight around the areas of Eastern Parkway to Empire Boulevard from Bedford Avenue to Nostrand Avenue
December 1, 2014
There will be a very large fund raiser being held on Saturday, December 13, 2014 at the Bedford Avenue Armory. Due to terrorism concerns several blocks will have no parking allowed from 7:00 am to midnight. There will be a large influx of Officers in the area and some anti terrorism check points. The following blocks will have no parking: Rogers Avenue from Eastern Parkway to Empire Boulevard Union Street from Bedford Avenue to Rogers Avenue President Street from Bedford Avenue to Rogers Avenue Bedford Avenue from Eastern Parkway to Carroll Street If you live on one of the following blocks that will be closed to traffic proper ID will be necessary to access your block with a vehicle. Pedestrian traffic will be allowed at all times. Eastern Parkway from Bedford Avenue to Rogers Avenue Union Street from Bedford Avenue to Rogers Avenue President Street from Bedford Avenue to Rogers Avenue Carroll Street from Bedford Avenue to Rogers Avenue Crown Street from Bedford Avenue to Rogers Avenue Montgomery Street from Bedford Avenue to Rogers Avenue Sullivan Place from Bedford Avenue to Rogers Avenue Any questions or special needs requests within reason can be directed to the 71 Precinct Community Affairs at one of the following emails: Vincent.Martinos@nypd.org Frank.Bulzoni@nypd.org Larry.Taylor@nypd.org

OPERATION S.L.A.T.E.
November 27, 2014
Operation S.L.A.T.E., Shooting Locations and Traffic Enforcement, will begin, Friday, November 28, 2014 and conclude on, Sunday, November 30, 2014. Operation S.L.A.T.E. involves targeted traffic-related enforcement in specific areas where more than one shooting and more than one injury collision or traffic fatality has occurred in close proximity in the current year between 1/01/2014 to 11/23/2014 High visibility traffic enforcement will be conducted in the confines of the 71 PRECINCT. Focused traffic initiatives targeting the most hazardous infractions will be conducted included but not limited to: Vehicle Safety & D.W.I. Checkpoints Speeding enforcement Motorcycle enforcement Unlicensed vehicles for hire enforcement Enforcement in the vicinity of problematic licensed premises, if shootings have occurred in close proximity. The goal of this type of initiative is to deter crime and also reduce traffic injuries. Omni-presence with a zero tolerance policy toward violations of the Vehicle and Traffic Laws in the zones where multiple shootings and collisions have occurred.

Register for the 2014 NYUL HBCU Fair!
November 12, 2014
Register Today for the 2014 NYUL HBCU Fair! - at Riverbank State Park in NYC on Saturday, November 15, 2014 from 11am-3pm The New York Urban League, in partnership with the NYUL Young Professionals, Riverbank State Park and the Malcolm Bernard HBCU Fair invite you and your students to attend the 28th Annual Historically Black Colleges and Universities Fair (HBCU) on Saturday, November 15, 2014. The fair will be held at Riverbank State Park at 679 Riverside Drive at 145th Street, from 11:00am-3:30pm. This year's fair will offer students access to over 40 HBCU admissions representatives, alumni, and staff , along with college and scholarship resources from organizations like College Board , NYC College Line, United Negro College Fund and other notable organizations. We would also like you to join us for our Midday show and HBCU Experience Panel to get firsthand look at being an HBCU student. For qualified seniors, a number of schools will offer on-site admissions, fee waivers, and scholarships. At the 2013 fair, 214 students were admitted on-site, 538 fees were waived and $178, 948 were awarded in scholarships. These perks allow students the opportunity to gain early admissions to many highly competitive institutions for Fall 2015. Students should come prepared with copies of their transcripts and SAT/ACT scores to access these opportunities. All students are encouraged to pre-register for the best access to schools, workshops and all aspects of the fair.  Please visit www.nyul.org/HBCU to pre-register students, see our student checklist and to find out more information about the fair. Each student must register individually and interested parents and counselors are also invited to register online. For additional questions or concerns, please feel free to ...Read More

COLLEGE GOAL NY – FAFSA Completion Events for New York State Students
November 12, 2014
Registration Deadline: January 31, 2015 Events: January & February 2015 Contact: James F. Rodriguez - 866-509-5921 College Goal NY is a collaborative public service project of the New York State Financial Aid Administrators Association (NYSFAAA) and the New York State Higher Education Services Corporation (HESC). College Goal NY is comprised of numerous FAFSA completion events set in targeted areas throughout New York State which have a history of high financial need and submit a disproportionately small number of online FAFSA applications. New York City students and parents can register at 10 locations. Each event offers five (5) College Access Challenge Grants worth $ 500.00. See attached flyers. Click here for the flyer

Open Enrollment – Affordable Care Act
October 14, 2014
The Brooklyn Chamber of Commerce has a multi-lingual Navigator team to address individual and business health insurance enrollment through the Affordable Care Act. Open enrollment for individuals is fast approaching and will be much shorter this time around: 11/15/2014 - 2/15/2015; the penalty for non-compliance in 2015 is also higher! All questions and triage can be directed to: 718-875-9300 or nystateofhealth@brooklynchamber.com

Access to Capital: Alternative & Emerging Sources of Capital for Small Business
October 1, 2014
Date: Wednesday, October 8, 2014, Venue: Brooklyn Borough Hall, 209 Joralemon Street, Brooklyn, NY 11201 For more information click here

ACS Annual Making Strides Walk – Sunday, October 19th – Prospect Park
September 19, 2014
The American Cancer Society's Annual Making Strides Against Breast Cancer Walk is taking place, Sunday, October 19th in Prospect Park, Brooklyn. Even 2 people make a team!  You can either get your co-workers involved and/or family and friends! If you would like to sign up online, please follow this link, as it is a much smoother process where you can send out a mass email to all your friends, family members, employees and/or personal contacts and all they have to do is click on the link and donate and join the team.  There is also the benefit of linking your page to Facebook and increasing your donations through more exposure. View Link

Event Notification – City Council District 35
September 4, 2014
On Tuesday September 09 2014 a Feature Film for "MEADOWLAND" is scheduled to film scenes at the following locations: ECCS - 09/09/2014 06:00 AM - 09/09/2014 09:00 PM 260 EASTERN PARKWAY, Brooklyn (Interior Exterior) Description: 7:00am-4:00pm EXT: Dialogue scene between a teacher and student. Student enters Picture Car with Parent, Picture Car pulls away from curb, 2nd Picture car with teacher follows car down Union Street towards Franklin Avenue. 4:00-8:00pm INT: Dialogue scene between a teacher and students. VTU Request: No Request: TCD assistance for Exterior Scene 7:00am-4:00pm. Cars traveling with the flow of traffic and per TCD's discretion. PARKING REQUEST UNION STREET between CLASSON AVENUE and FRANKLIN AVENUE Street Side: North and South Street Control: Full Street

Event Notification – City Council District 40
September 4, 2014
On Monday September 08 2014 a Television for "Alpha House Season 2" is scheduled to film scenes at the following locations: INT KATHERINE.BIGG'S APT./EXT ALPHA HOUSE - 09/08/2014 08:00 AM - 09/08/2014 11:00 PM MIDWOOD STREET between FLATBUSH AVENUE and BEDFORD AVENUE, Brooklyn (Interior) Description: 8:00am-7:00pm INT. 52 MIDWOOD STREET: Interior dialogue scenes. 6:00pm-11:00pm EXT. 47 MIDWOOD STREET: Exterior dialogue scene. One character enters another's house. VTU Request: Yes Trucks: 2 Meeting Place: Trucks: Sunday, Sept. 7th @ 10:00pm to Midwood Street & Bedford Ave, Brooklyn. (Signs posted Tues 9.2) PARKING REQUESTS: MIDWOOD STREET between FLATBUSH AVENUE and BEDFORD AVENUE Street Side: North and South Street Control: Full Street BEDFORD AVENUE between MAPLE STREET and RUTLAND ROAD Street Side: East and West Street Control: Full Street MAPLE STREET between BEDFORD AVENUE and FLATBUSH AVENUE Street Side: South Street Control: 1/4 Street FLATBUSH AVENUE between MAPLE STREET and MIDWOOD STREET Street Side: East Street Control: 1/2 Street FLATBUSH AVENUE between MIDWOOD STREET and RUTLAND ROAD Street Side: East Street Control: Full Street FLATBUSH AVENUE between MAPLE STREET and BEEKMAN PLACE Street Side: West Street Control: 1 Truck Length

Event Notification – City Council District 35, 39
August 28, 2014
On Tuesday September 02 2014 a Television for "The Mysteries of Laura - Series" is scheduled to film scenes at the following locations: Int-Ext Serenity Gardens -  09/02/2014 06:00 AM - 09/02/2014 04:00 PM Brooklyn Botanic Garden : Brooklyn Botanic Garden, Brooklyn (Interior) Description: Various dialogue scenes within Brooklyn Botanical Gardens VTU Request: No Request: PARKING REQUEST WASHINGTON AVENUE between EASTERN PARKWAY and PRESIDENT STREET Street Side: East and West Street Control: Full Street CLASSON AVENUE between PRESIDENT STREET and EASTERN PARKWAY Street Side: East and West Street Control: Full Street

Event Notification – City Council District 33, 35
August 28, 2014
On Thursday August 28 2014 a Television for "The Affair - Season 1" is scheduled to film scenes at the following locations: INT. SCHOOL 260 EASTERN PARKWAY, Brooklyn (Interior) - 08/28/2014 12:00 PM - 08/28/2014 11:00 PM Description: Martin is annoyed that his dad is watching his basketball game. VTU Request: Yes Trucks: 1 Meeting Place: Truck: Thursday, August 28th @ 6:00am to Eastern Parkway & Classon Avenue, Brooklyn. (Signs posted 8.21) Request: PARKING REQUEST CLASSON AVENUE between EASTERN PARKWAY and UNION STREET Street Side: East Street Control: Full Street UNION STREET between CLASSON AVENUE and FRANKLIN AVENUE Street Side: North and South Street Control: Full Street

Event Notification – City Council District 33, 35
August 25, 2014
On Friday August 29 2014 a WEB for "High Maintenance" is scheduled to film scenes at the following locations: LUBAVITCH HOUSE - 08/29/2014 10:00 AM - 08/29/2014 01:00 PM 1506 PRESIDENT STREET, Brooklyn (Interior Exterior) Description: BEN gets a flat tire, is asked inside by a Hasidic man. BEN turns on their AC for them, since it's the Sabbath VTU Request: No PARKING REQUEST PRESIDENT STREET between TROY AVENUE and ALBANY AVENUE Street Side: South Street Control: 2 Truck Length

Event Notification – City Council District 32, 40
August 25, 2014
On Thursday August 28 2014 a Television for "Alpha House Season 2" is scheduled to film scenes at the following locations: Ext. Alpha House - 08/28/2014 02:00 PM - 08/28/2014 11:59 PM 47 MIDWOOD STREET between FLATBUSH AVENUE and BEDFORD AVENUE, Brooklyn (Exterior) Description: 3x characters approach house, notice it's been broken into. Picture police car w/flashing bubble lights arrive at scene and dialogue with 2x char in police uniform. 2 dialogue scenes in car parked outside location on street. Vehicle will pull up in front of house. 20x picture cars on street. VTU Request: Yes Trucks: 1 Meeting Place: Truck: Thursday, August 28th @ 6:00am to Bedford Ave. & Midwood St., Brooklyn. (Signs posted 8.21) Request: request to have actors in police uniform while filming. request to have police vehicles on set. request permission to pull vehicle in and out of curb lane, stopping and starting as necessary for picture. request permission to roll back to 1. Request for ITC with PSB and TIU assistance. PARKING REQUEST MIDWOOD STREET between FLATBUSH AVENUE and BEDFORD AVENUE Street Side: North and South Street Control: Full Street BEDFORD AVENUE between MAPLE STREET and RUTLAND ROAD Street Side: East and West Street Control: Full Street MAPLE STREET between BEDFORD AVENUE and FLATBUSH AVENUE Street Side: South Street Control: 1/4 Street

Event Notification – City Council District 39, 40, 7
August 25, 2014