Arizona National Livestock Show Scholarship Essay
Togrel
/
Scholarships
The Arizona National Livestock Show invests in the future of agriculture by awarding more than $40,000 annually in scholarships to students who have participated in the livestock show or horse show. Since inception, the Scholarship Program, funded through donations to the Arizona National Livestock Show with support from the Arizona Horse Lover's Foundation, has awarded more than 900 scholarships totaling more than $920,000.
Donate to the Scholarship Program
Education is key to the success of our youth – the future of our agricultural industry. We encourage contributions to the Arizona National Scholarship Program to motivate students in academic pursuits in agriculture.
Donations are tax deductible and your full contribution will go directly to the scholarship program. For more information or to donate, contact the Arizona National Livestock Show office at 602.258.8568 or donate online now, <here>
Application Information
Scholarship applications are accepted and reviewed once a year. The deadline to apply is March 15th.
Application Criteria
Scholarships are available to students pursuing an undergraduate degree and attending an accredited university or college for the current academic year.
Scholarship Requirements:
Prior Arizona National participation
High school graduation
Completion of at least 12 semester hours following high school graduation and before applying
Currently taking at least 12 credit hours
A minimum grade point average of 2.5 (A = 4)
Selection of applicants and amounts awarded are based on the committee's review of these criteria:
Arizona National Participation

Exhibitor, Volunteer or Employee

Career Plans & Goals
Grades & Course Work
Letters of Recommendation

Quality, Content and Credentials

Activities

Ag-Related, Leadership, Well-Rounded, Accomplishments

Overall impression of applicant and application
2016 ACADEMIC YEAR SCHOLARSHIPS
$63,500 Awarded
SCHOLARSHIP SUPPORT


MEMORIAL SCHOLARSHIP SUPPORT
Bob & Miriam Boice Memorial
Everett Bowman Memorial
Georgeann (Ann) Maxcy Memorial
Duane Webb Memorial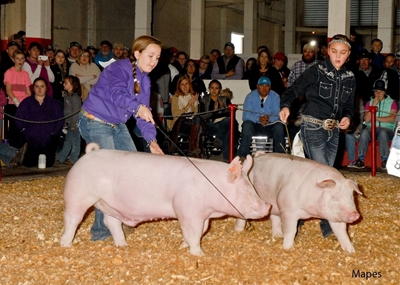 ABOUT ANLS
The Arizona National Livestock Show is the largest Livestock Show in the Southwest, an annual Phoenix tradition since 1948. We take pride in our reputation as a prestigious Show with an atmosphere of warm hospitality. Membership in the Arizona National provides the financial foundation of our success. While recent growth has definitely pushed the country out of this city, remnants of the western way of life remain to remind us of our roots. The Arizona National Livestock Show is an Arizona tradition since 1948.
Exhibitors travel from over 25 states across the country, bringing nearly 1,700 head of the nation's best cattle, horses, sheep, goats, swine and poultry to enter the competition. We sell 100 of the highest placing market animals at the Junior Market Auction.
Cattlemen from across Arizona will gather at the Arizona State Fairgrounds for Cattlemen's Day which includes the Arizona Working Ranch Horse Competition, Arizona Ranch Replacement Heifer Show and Sale and the Arizona Ranch Horse Sale.
The Cowboy Classics Western Art and Gear Show Exhibit is held in conjunction with the Livestock Show. It is a showcase of the rich and unique life of the American cowboy presented through many forms of art, including painting, bronze sculptures, leather and silver work and a variety of other mediums. A display of Ranchers history and memorabilia is also on exhibit in the Cowboy Classics Gallery. Arizona ranching families and other organizations with roots in ranching and agriculture provide the displays, which attract the attention of both urban and rural spectators.
We have several other fantastic events taking place during the Arizona National Livestock Show which include the Farm Experience, an interactive area for children to learn about agriculture, Chuck Wagon and Dutch Oven Cook Offs and much more!
The Arizona National Horse Show has long been part of Arizona National events. Since 1998, when we moved the events to the WestWorld equine complex in Scottsdale, the Horse Show has experienced significant growth. We offer equine competitions for various interests including an American Quarter Horse Show, and the 4-H/FFA Horse Show.